The nation's largest Financial Services providers are a favorite target for nation-state sponsored and coordinated cyber-attacks. Despite significantly more financial and resource investment in cybersecurity than any other industry, critical infrastructure breaches and novel attacks remain a daily occurrence.
Compounding this challenge are legacy cybersecurity tool's technical limitations, data storage and manipulation requirements, data training, tuning, and maintenance issues.
Take traditional SIEM platforms, for example. Their fundamental inability to support today's required data volumes is a significant concern for most Financial Services providers, even before one considers the inherent lack of any real-time detection of threats and anomalies. As a result, for most Financial Services companies, zero-day attack detection has become an ineffective, costly, collection of tools and manual processes dependent on perpetual data management, data manipulation and proprietary storage techniques with no ability to practically triage the findings across multiple platforms, and multiple teams.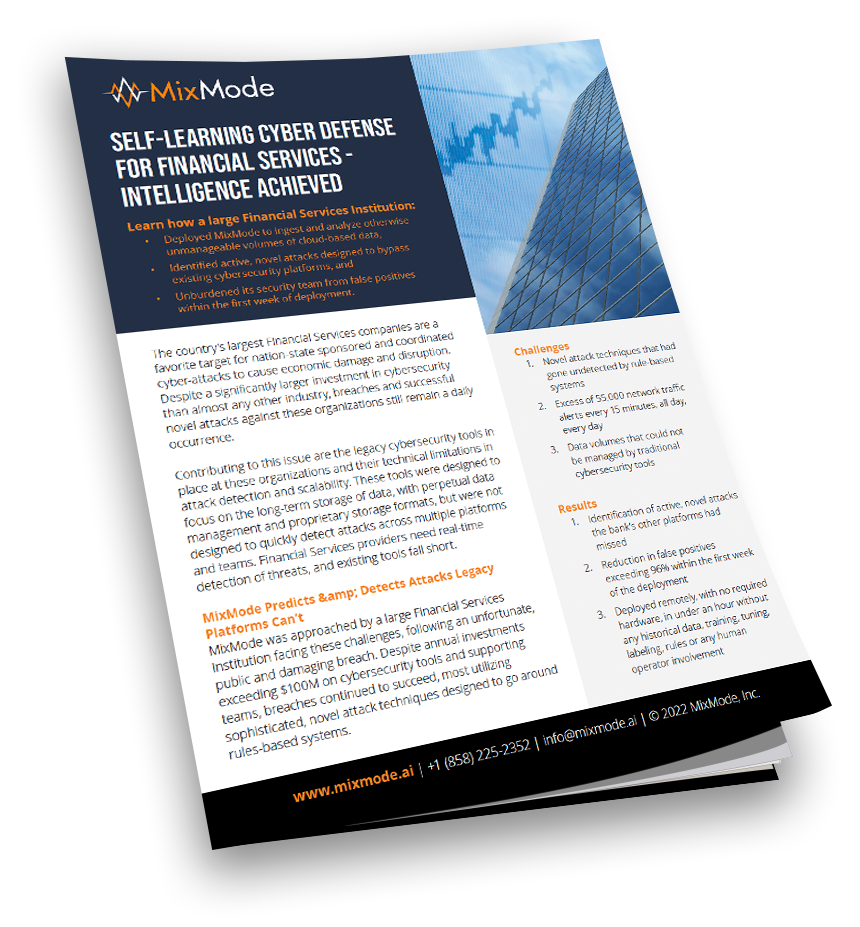 In our newest customer case study, "Self-Learning Cyber Defense for Financial Services Institutions," Geoffrey Coulehan, Head of Sales and Strategic Alliances at MixMode, shares how one of the nation's top financial services institutions came to MixMode to solve 3 major challenges:
Novel attack techniques that had gone undetected by their legacy, rule-based systems
Excess of 55,000 network traffic alerts every 15 minutes, all day, every day
Data volumes that could not be managed by traditional cybersecurity tools
Download the case study to read more on how MixMode was able to solve each of these challenges as well as learn more about MixMode AI Operators: an automatically initiated, targeted function that identifies, highlights, and tracks anomalous and/or suspicious events and behaviors. MixMode AI Operators are patented, self-learning, targeted AI functions which independently establish their own generative baselines which traverse multiple systems and analyze the raw signal data to identify, triage, and provide context for complex, novel attack, and zero-day threat scenarios.
MixMode Articles You Might Like:
False Narratives in the Cybersecurity Tools Market
The Broken Promises From Cybersecurity Vendors
How MixMode is Embracing Zero Trust
Can You Predict a Cyber Attack Before It Happens?
Can Your Enterprise Cybersecurity Solution Solve These Two Challenges? You May Be More Vulnerable Than You Realize
How Vulnerable Is Your Organization to the Growing Ransomware Threat? It May Be Time to Modernize Your Cybersecurity Approach