Connect Your Telecom Infrastructure with Dynamic Threat Detection for Complex Environments
In today's digital age, mobile networks are evolving into the open innovation platform supporting business, society, and mission-critical use cases. With the help of 5G, communication service providers can connect businesses, smart factories, and vital public safety infrastructures with secure and dependable connectivity.
The interconnected nature of telecom networks, coupled with the increasing adoption of digital technologies and the Internet of Things (IoT), has expanded the attack surface and heightened the risk of cyber threats.
To safeguard critical infrastructure, protect sensitive customer information, and maintain the integrity of their networks, telecom organizations must employ advanced threat detection solutions that can detect and mitigate threats in real-time.
MixMode's dynamical threat detection platform seamlessly integrates with any security environment to detect threats in real-time, enabling telecom organizations to protect their infrastructure effectively.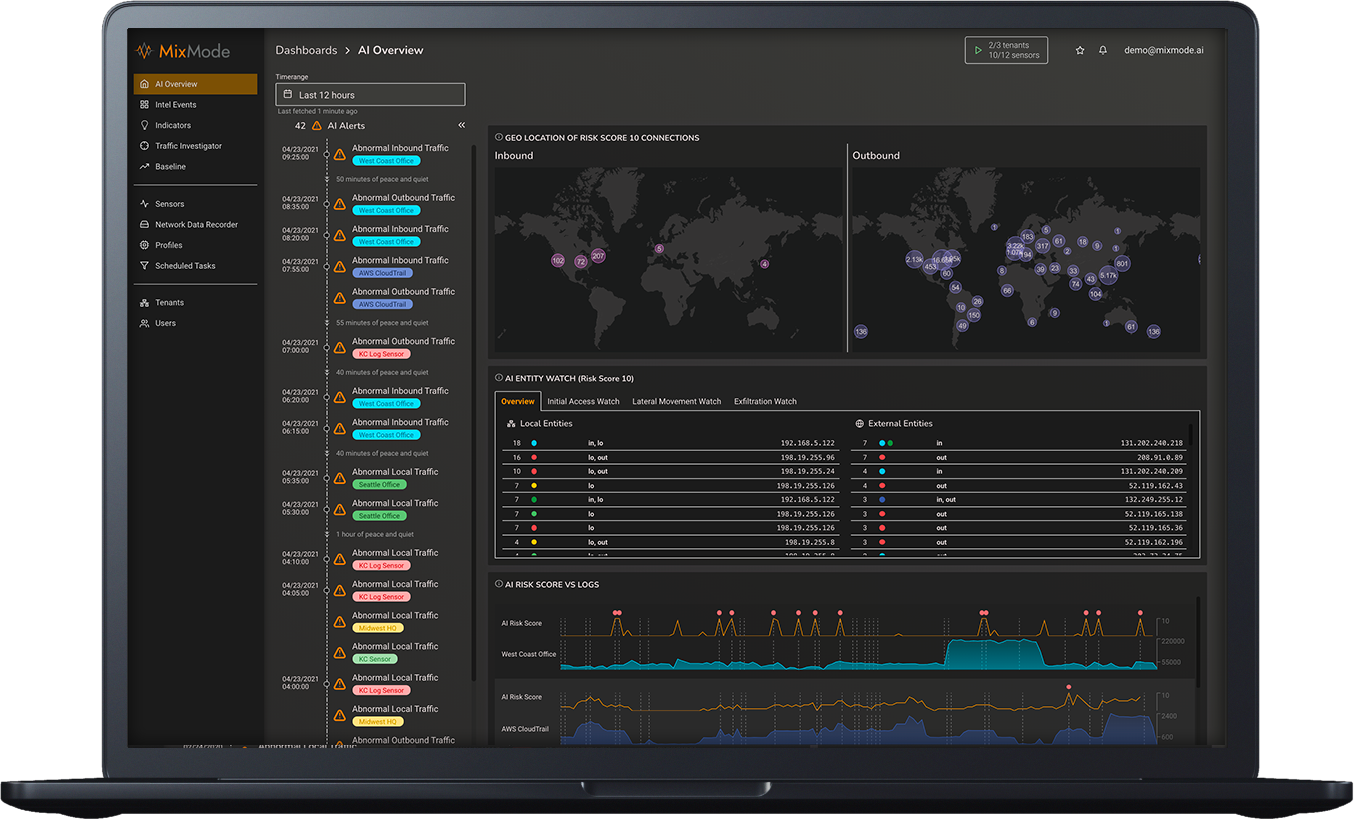 Stay one step ahead of evolving threats with an adaptive defense that strengthens your security posture
Move beyond legacy detection methods with MixMode
Detect advanced threats in real-time
"With MixMode, we achieved a 97% reduction in false positives within the first week of deployment with a system that's operating completely independent of rules and completely independent of anyone from our team."
VP of InfoSec
Fortune 500 Telecom Organization
Detect and Respond Faster
Identify and resolve threats sooner, including active, novel attacks that other platforms miss.
Increase efficiencies
Reduce false positives and eliminate tedious tasks to focus on what matters.
Greatly Reduce Cost and Risk
Reduce storage costs and eliminate the need for multiple disparate toolsets while up-leveling existing investments.
Scale Easily and Effectively
Ingest and analyze large volumes of data in real-time without increasing spend.
No rules. No tuning. No Maintenance. Any Environment.