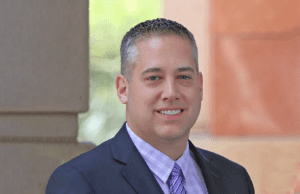 Chief Information Security Officer and Chief Privacy Officer for the City of Phoenix, Shannon Lawson, shares in this Toggle Magazine article the city's back-to-basics approach for cybersecurity using MixMode's AI-powered platform for security information and event management, user and entity behavior analytics, network traffic analysis and network detection and response.
"They find the proverbial needle in the 14 billion haystacks to see which weird event may have occurred in the traffic," he says. "It was easy to install and learns on its own very quickly."
Chief information security officer and chief privacy officer for the city of Phoenix, he was trained in information warfare and cybersecurity by the U.S. Navy and National Security Agency and understands network breaches can result from simple mistakes.
He also knows how the city can protect itself and citizens—and he's not shy about educating city leaders on why spending now will save much more down the road.

"People are not getting taken because they lack the latest vendor tool that does something," Lawson says. "They're getting taken or attacked, paying ransomware and having [personally identifiable information] spills because they aren't coming back to the basics and working through the problems using best practices."
MixMode Articles You Might Like:
As Enterprises Embrace 5G, AI-Enhanced Cybersecurity Emerges as Top Security Priority
Healthcare Ransomware Attacks Persist
Protecting Your Enterprise from Ransomware with MixMode
SMB Companies Beware: The Ransomware Hunter is Aiming at You
Fuse Show Recap: Rising Above the AI Marketing Noise in Cybersecurity