Patented Third-Wave AI for Real-Time Threat Detection and Response
Federal entities, including the Department of Defense (DoD), the Intelligence Community, and civilian agencies are a top target for cyberattacks due to their lack of resources and the broad impact of a successful attack.
The traditional approach of defending the perimeter is not enough, leaving them vulnerable to attacks and unable to respond quickly enough to mitigate the damage.
For government agencies to properly neutralize these attacks, they must not only be vigilant and implement strong cybersecurity procedures, but they also need to adopt easy-to-implement, comprehensive solutions that prevent, detect, and respond to the most advanced cyber threats.
The MixMode Platform is the only generative Third Wave AI cybersecurity solution built on patented technology purpose-built to detect and respond to threats in real-time, at scale. MixMode's AI is uniquely born out of dynamical systems (a branch of applied mathematics) and autonomously learns, adapts, and evolves to detect attacks without relying on rules, training, or tuning, enabling government agencies to effectively protect their organization and fortify their defenses.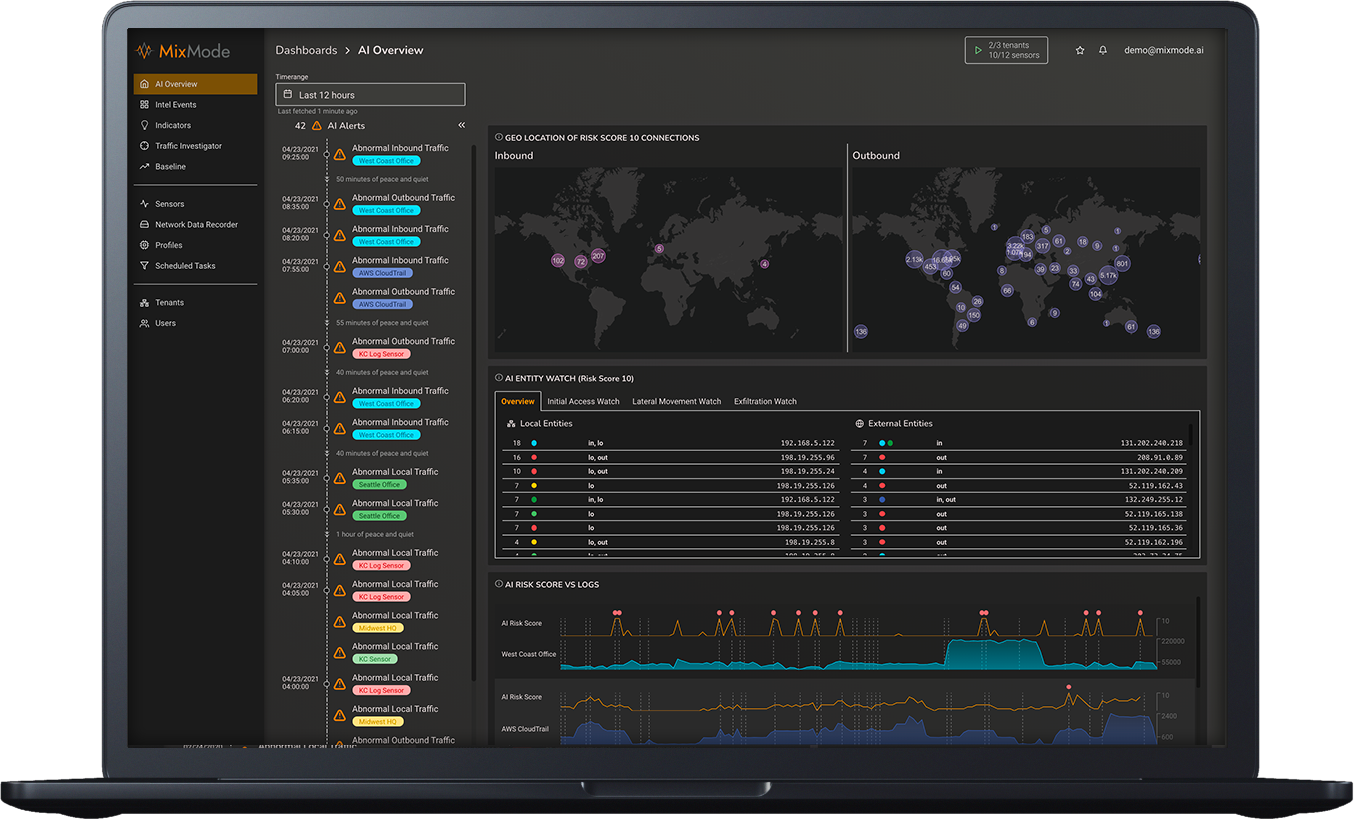 "We have been saying for years that the more data, the better. However, standard cybersecurity programs often fail as organizations can't make sense of it all. MixMode lets you jump that barrier with their AI to find threats amongst all the noise, including novel attacks designed to bypass legacy systems." Matt Bromiley, Senior Security Analyst, SANS Institute
Move Beyond Defending the Perimeter with MixMode Third Wave Ai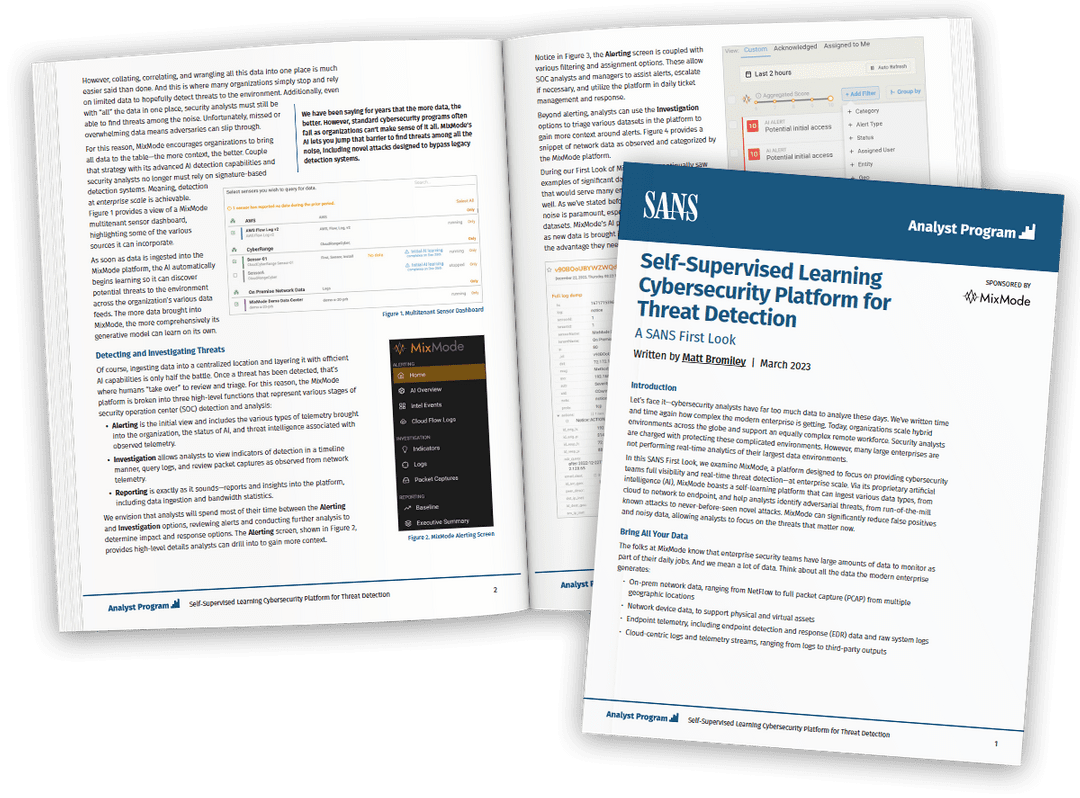 SANS First Look: A Self-Supervised Learning Threat Detection Platform
The SANS Institute recently evaluated MixMode, download their First Look Report and watch the accompanying webinar to learn why the world's best security teams are choosing MixMode.
Stay one step ahead of evolving threats with an adaptive defense that elevates protection and performance
Solving for DoD Zero Trust Capabilities
Automation & Orchestration
No Bias: no training data or human operator involvement are required
Precision Alerts: Lightweight, efficient AI powers hunting and intrusion detection
Any Environment: Air-gapped, on-prem, and private cloud environments
Predictive Capabilities: Able to detect pre-game activity to prevent threats
Increased Efficiencies: Self-learning AI empowers security professionals to focus on high-priority activities
Visibility and Analytics
Increased Visibility: comprehensive visibility across Network Traffic, API logs, Private cloud, Identity
Reduced Costs: Easily integrates with tech stack (e.g. EDR, SIEM, UEBA) to uplevel existing investments
Improved Performance: Accelerates alert triage and investigation: 20x efficiency improvement.
Real-time Capabilities: Improves MTTD and MTTR
Enriched Data: Integrate with Threat Intel feeds for additional context
Device Detection
Break Down Silos: Ingest any time-stamped data stream from multiple sources, including endpoint data
Enhanced Capabilities: Precision alerting and comprehensive visibility
Mitigate Risk: AI-driven visibility into north/south and lateral movements to include endpoint and IoT devices
Streamlined Defense: Solidify your defenses and streamline operations using MixMode as the "Triage Command Center"
"Everyone today needs AI cyber defense, and MixMode is in the lead, to combat threat attacks supported by AI."
Detect and Respond Faster
Identify and resolve threats sooner, including active, novel attacks that other platforms miss.
Increase efficiencies
Reduce false positives and eliminate tedious tasks to focus on what matters.
Greatly Reduce Cost and Risk
Reduce storage costs and eliminate the need for multiple disparate toolsets while up-leveling existing investments.
Scale Easily and Effectively
Ingest and analyze large volumes of data in real-time without increasing spend.
No rules. No tuning. No Limits.