Network Detection and Response
Contextual Visibility for Real-time Network Detection at Scale
Strengthen Your Defense with Real-time Detection
Enterprise organizations continue to struggle with the ever-increasing complexity and scale of network environments, making it difficult for them to gain comprehensive visibility into network traffic to detect potential threats effectively. The sheer volume of network data generated poses a challenge in terms of processing and analyzing the data in real-time.
MixMode's Network Detection and Response Solution monitors your network environment in real-time at scale to identify malicious activity and enable quick response.
MixMode NDR is capable of ingesting and analyzing large volumes of network traffic, allowing organizations to effectively detect threats that typically evade traditional security tools.
With MixMode NDR, organizations can enhance their security posture, improve threat detection capabilities, and mitigate the potential impact of cyber attacks on their networks, quickly and effectively.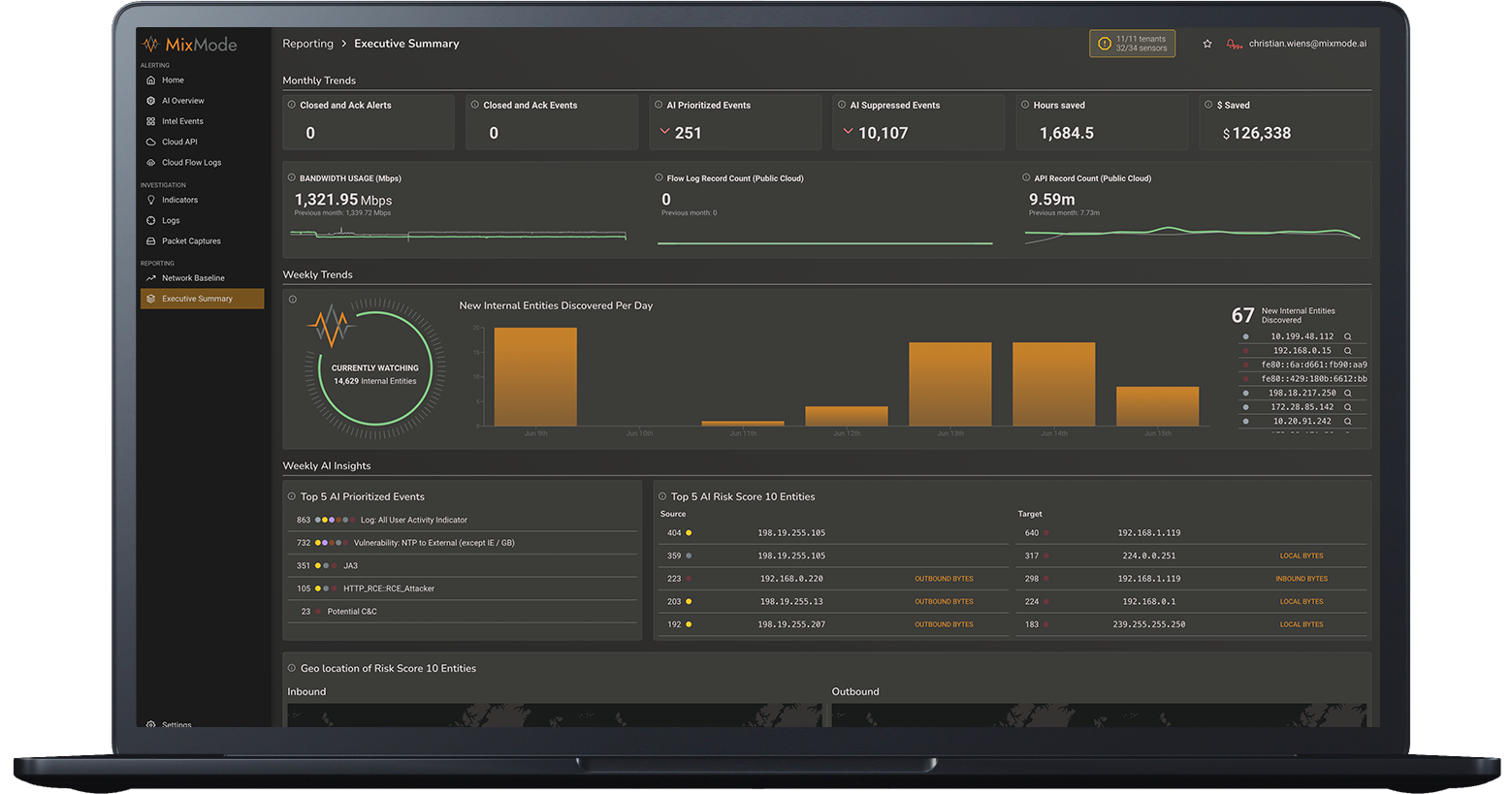 Protect Your entire Network Environment with MixMode
Detect threats others miss with a real-time adaptive defense that elevates protection and performance
Detect and Respond Faster
Identify and resolve threats in real-time, including active, novel attacks that other platforms miss.
Increase efficiencies
Reduce false positives and eliminate tedious tasks to focus on what matters.
Eliminate Blind Spots
Streamline visibility across multiple disparate toolsets while up-leveling existing investments.
Scale Easily and Effectively
Ingest and analyze large volumes of data in real-time without increasing spend.
"MixMode uses a dynamic threat detection foundational model that provides the ability to learn, adapt, predict and detect threats in any security environment. This enables the MixMode platform to identify new evidence indicating novel threats or previously unrecognized threat activity, without supervision or prior training."

Scott Crawford, 451 Research
No rules. No tuning. No Limits.