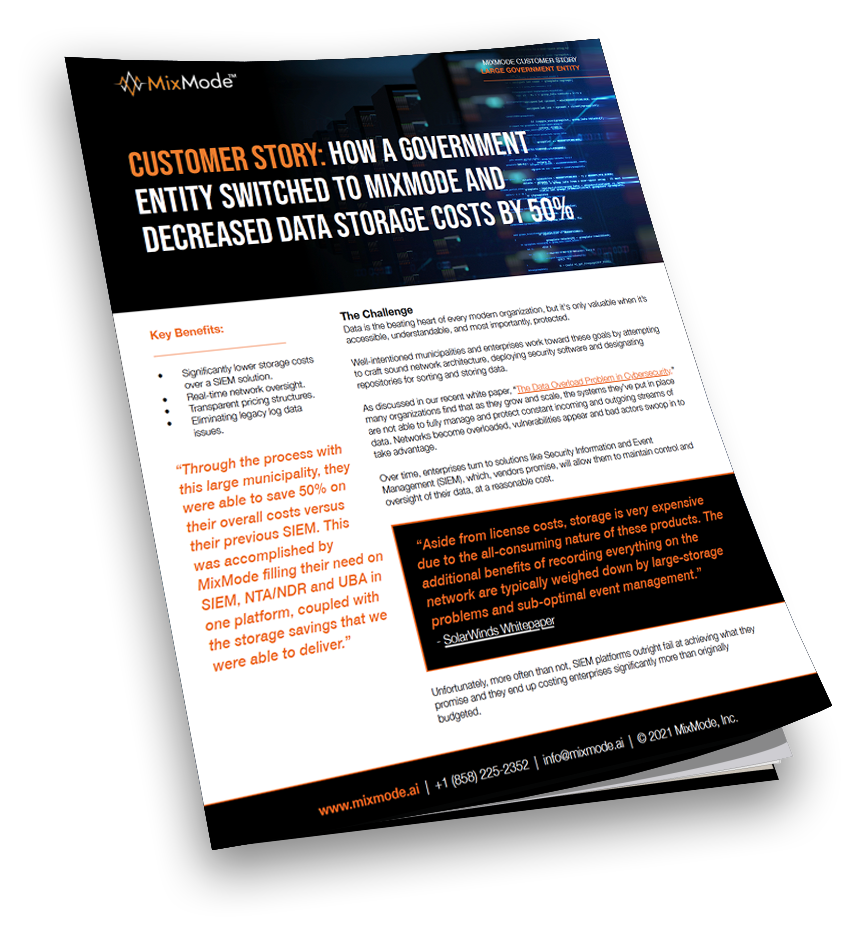 The following is an excerpt from our recent customer story, "How a Government Entity Switched to MixMode and Decreased Data Storage Costs by 50%," in which you can learn how switching to MixMode helped save a large government entity from the ineffective threat detection capabilities and colossal log storage costs of their failed 3 year long SIEM and UBA deployment.
In a recent article, we shared the hidden costs and challenges of log storage for a large government entity using a SIEM. Here we share the results of switching from their UBA/SIEM solution to MixMode's next-generation SOC platform based on patented Unsupervised Artificial Intelligence (AI).
The Results
Within the first 24 hours after deployment, MixMode had enabled the government entity to regain control over their security environment and network data infrastructure. No longer limited to log data analysis, they were able to identify and address real-time threats as well as network and operational configuration challenges.
"We are able to shrink storage requirements by a wide amount," said a manager associated with the project. "Instead of the existing SIEM solution increasing data storage needs by 400 or 500 percent. With MixMode we can decrease it by 50 to 60 percent."
Similar MixMode clients have saved between 60 and 80 percent over their previous SIEM vendor contracts. The difference is in the approach. Instead of using warm storage where data is always standing by, MixMode:

Ingests and compresses the raw data packet and sends it to cold storage.
Eliminates the requirement for labeling and normalizing.
MixMode doesn't create a proprietary data labeling conflict like a traditional SIEM, and it doesn't require additional databases or time-consuming steps to monitor network behavior.
How Can MixMode Help You?
In some ways, the problems associated with log storage based SIEM solutions seem inevitable. Data is dynamic, ever-expanding and if it's not handled proactively, prone to overloading systems and system operators alike. MixMode customers know it doesn't have to be this way.
MixMode leads with innovation. Clients gain access to predictive alerting solutions that empower them to access robust, game-changing security features without being gouged by an unethical pricing structure.
"MixMode has proven to be a far more effective platform than traditional cybersecurity tools, at a fraction of the cost," explains Geoffrey Coulehan, Head of Sales and Alliances at MixMode. "Our customers achieve positive ROI with greater efficacy in identifying and addressing cyber threats by taking advantage of our Unsupervised AI and eliminating the need to store data in a redundant, proprietary format."
MixMode Articles You Might Like:
How Self-Supervised AI Tackles Ambiguity in Network Security
Performing Critical Cyber Diligence for Mergers and Acquisitions Using MixMode
Igor Mezic, MixMode CTO and Chief Scientist, Earns J.D. Crawford Prize
The Hidden Costs and Challenges of Log Data Storage Using a SIEM
The Fourth Industrial Revolution – AI, Quantum, and IoT Impacts on Cybersecurity
How a Government Entity Switched to MixMode and Decreased Data Storage Costs by 50%