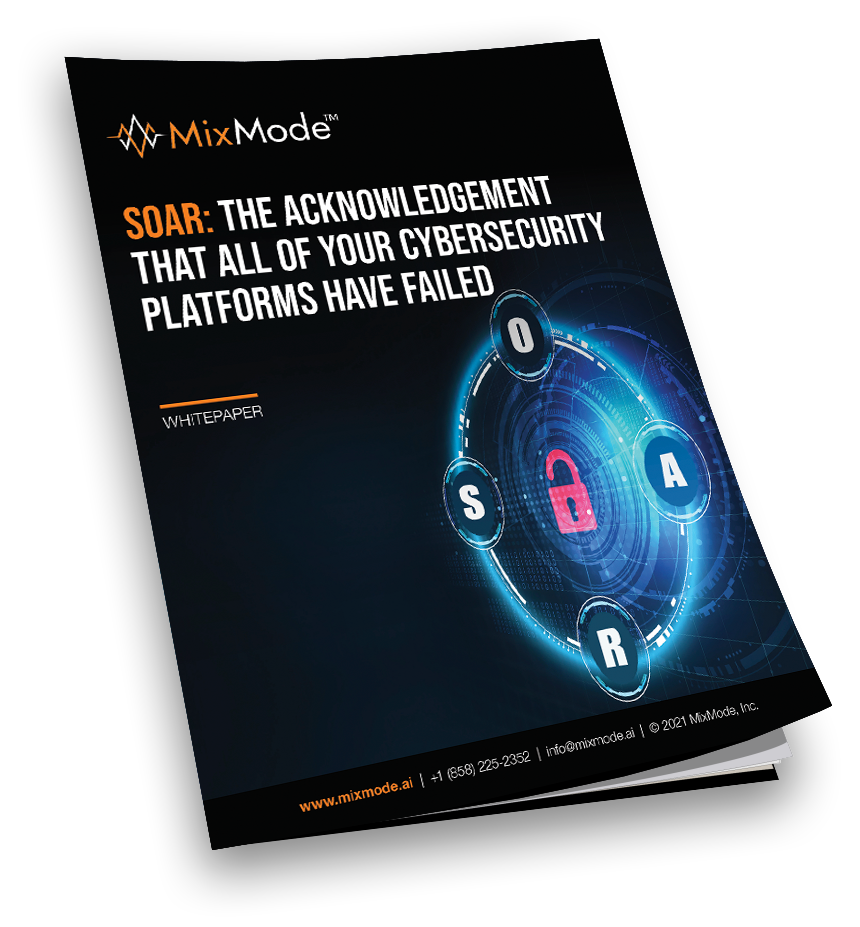 The following is an excerpt from our recently published whitepaper, "SOAR: The Acknowledgement That All of Your Cybersecurity Platforms Have Failed," in which we explain why the patchwork strategy of additive cybersecurity solutions and technology is failing in the modern threatscape and why we believe SOAR is just an admission that all of your other cybersecurity platforms aren't doing their job.
Modern Security Issues Require Modern Solutions
A jumble of ineffective, incomplete, extremely expensive platforms that don't meet the fundamental challenges faced by enterprise SOC teams in the early 2020s is not sustainable.
As other vendors have continued introducing inadequate solutions into the marketplace and signing up clients for lengthy, murky service contracts, MixMode has been leveraging cutting-edge technology to revolutionize enterprise security.
How MixMode Works
Third-wave, unsupervised AI is the cornerstone of the MixMode single-platform solution. Instead of tacking on yet another additive band-aid solution, MixMode empowers teams to replace their failing systems with technology that works in a fundamentally different way.
Rather than applying a rules-based approach, where first or second-wave AI responds to predefined parameters, MixMode is a responsive, ever-evolving network resident. Instead of comparing new network behaviors to a set of expected behaviors, MixMode can differentiate between problematic and safe behavior by developing a true understanding of the network's baseline behavior.
In a week, MixMode establishes a baseline of behavior across an entire network, both on-prem and in the cloud. Over time, the software is so adept that it can begin to predict expected behavior and limit flagging to truly questionable behaviors and vulnerabilities. The result is a SOC team that can focus on important tasks rather than chasing down an endless list of alerts created by first- and second-wave, rules-based AI.
When security teams can turn to a singular, powerful solution for network security — one that is not reliant on ongoing updates — they can turn to other matters at hand, safe in the knowledge that anomalous behavior will be detected in real-time and stopped or flagged appropriately.
MixMode Articles You Might Like:
Webinar Recap: Why Your Legacy Cyber Platforms Can't Defend Against Modern Day Attacks
New Video: MixMode Cyber Anomaly Detection Platform
The Top 5 Considerations That Should Guide Your SOC Strategy in 2021 and Beyond
SIEM Cannot Detect (and Ignores) Zero-Day Attacks
Cybersecurity Spend for Data Retention and Analysis is Out of Control and Largely Unnecessary