MixMode's Disruptor Status Acknowledged with Selection from Over 1,000 Companies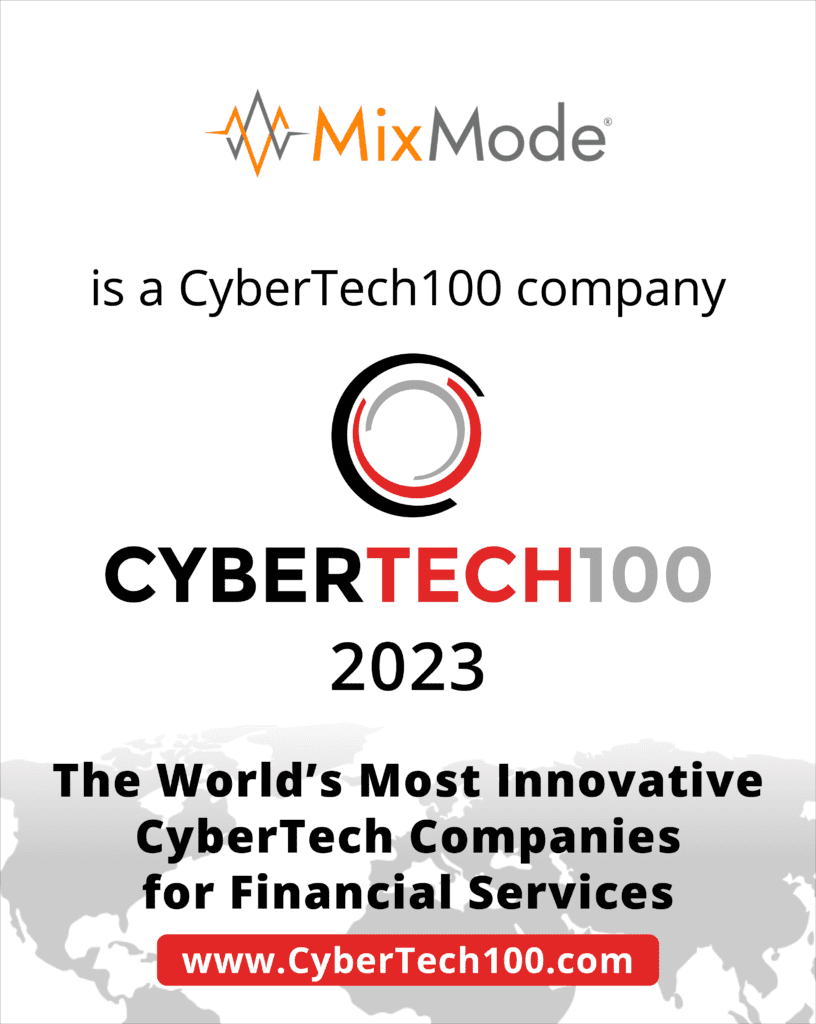 SANTA BARBARA, Calif., May 10, 2023 – MixMode, the only self-supervised AI-based real-time, risk detection platform in cybersecurity, announced today its selection for the fourth annual CyberTech100 list of transformational cybersecurity companies that financial institutions need to know about. The top 100 were selected based on their innovative use of technology to solve a significant industry problem, their ability to generate cost savings and efficiency improvements across the security value chain.
In increasingly complex data environments plagued with continuing breaches, failed promises of cybersecurity point solutions, and an unwieldy mix of disparate tools, MixMode stands out by delivering immediate business outcomes in the form of real-time threat detection at scale for both novel and known attacks.
Despite significant security budgets and multiple third party tools, as well as in-house ML teams focused on threat detection, our financial services customers' defenses were not enough. With the MixMode platform, they quickly achieved their cybersecurity, data protection and threat prevention goals with comprehensive visibility on-premises and in the cloud. MixMode's real-time detection of threats provides SecOps teams efficiency gains, cost savings, and effective risk reduction unattainable from their legacy solutions, all within days not months and without the heavy lift in compute.
"MixMode was created to respond to the market need for a real-time threat detection platform that works at scale. Built on self-learning Third Wave AI technology uniquely capable of detecting ALL attacks, known and novel, MixMode does not require rules, IOCs or tuning. MixMode has proven its effectiveness in securing the complex data environments of top financial services companies, delivering real-time detections across any attack surface for a reasonable cost. We are pleased to be recognized in the CyberTech 100 as a disruptive, transformational technology that can deliver unmatched detection to financial institutions," said Matt Shea, Chief Strategy Officer at MixMode.
About MixMode
MixMode is a no-rules-required Cybersecurity platform, serving large enterprises and federal agencies with big data environments across a variety of industries. MixMode delivers a patented, self-learning platform that acts as the Cybersecurity Intelligence Layer℠ to detect both known and unknown attacks, including novel attacks designed to bypass legacy cyber defenses. This is accomplished in real-time, across any cloud or on-premises data stream. Trusted by global entities in banking, public utilities and government sectors, industry cyber leaders rely on MixMode to protect their most critical assets. The platform dramatically improves the efficiency of SOC teams previously burdened with writing and tuning rules and manually searching for attacks. The MixMode platform can be deployed remotely, with no appliances, in under an hour with business outcomes evident within days. Backed by PSG and Entrada Ventures, the company is headquartered in Santa Barbara, CA.
Other MixMode Articles You Might Like
Persistent Ransomware Attacks on Cities Underscores Need to Upgrade to Real-Time Threat Visibility
The 2 Questions Cybersecurity Clients Ask the Most When Seeking a Trustworthy Provider
Delivering Generative AI to Cybersecurity for Over 3 Years
MixMode Selects CrowdStrike as Cybersecurity Partner, Joins CrowdStrike Elevate Partner Program
How the City of Phoenix Rapidly Modernized its Cybersecurity Defenses
A Recent 45% Surge in Ransomware Attacks Has Cybersecurity Community on High Alert