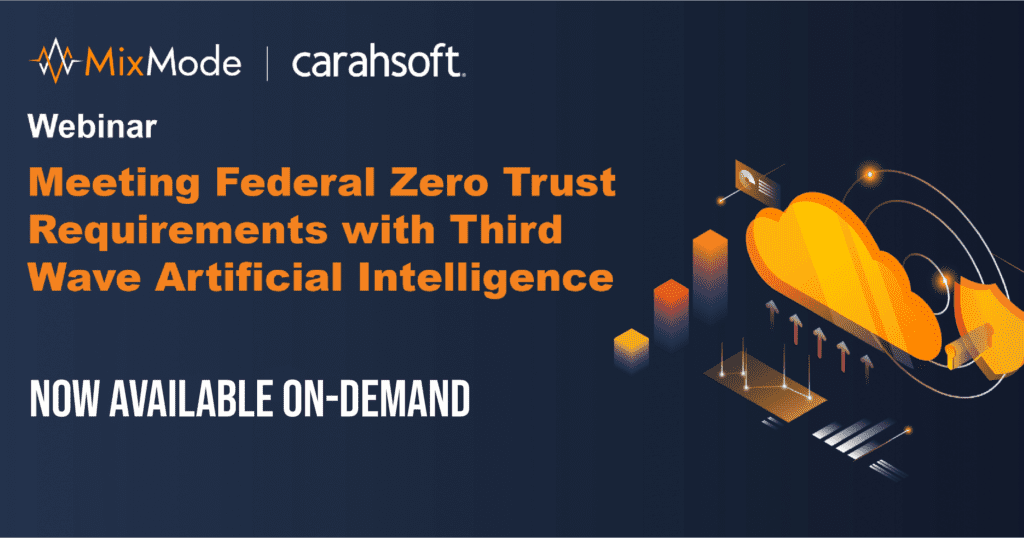 Now available on-demand: Meeting Federal Zero Trust Requirements with Third Wave Artificial Intelligence webinar with MixMode and Carahsoft. Featured speaker, Matt Shea, Chief Strategy Officer at MixMode, discusses how to best meet the M2131 Cybersecurity Federal Mandate.
Executive Order 14028, Improving the Nation's Cybersecurity, directs decisive action to improve the Federal Government's investigative and remediation capabilities. Specifically, it aims to galvanize public and private efforts to help identify, deter, protect against, detect, and respond to persistent and increasingly sophisticated malicious cyber campaigns. 
The EO outlines an array of cybersecurity objectives the government must meet, and there's a short timeline to do so. The executive order signals two things:
It calls for making federal government systems stronger and safer so they're harder to break into. It pushes specific actions to modernize cybersecurity in the federal government.

It sets a goal for more effective and agile federal government responses. It requires IT providers to report cyber incidents and removes contractual barriers for them to share information with government entities.

Shea also discusses in this webinar how federal security teams use MixMode in the cloud or on-premises for:

Full Visibility & Analytics for DoD Zero Trust
Detecting Zero-Day & Nation-State Attacks
Reducing False-Positives by 97%+
Immediate Deployment & Fast Outcomes
About MixMode
MixMode is a self-learning Cybersecurity platform, protecting large entities with big data environments from known and novel attacks designed to bypass legacy rules-based defenses. Industry cyber leaders at global entities in banking, public utilities, and government sectors rely on MixMode's Third Wave AI to close gaps in visibility and detection across any data stream.
Other MixMode Articles You Might Like
Ransomware and Supply Chain Attacks: How to Protect Your Business From the Rising Threat of Third-Party Attacks
8 of the Biggest Ransomware Attacks in Recent History: A Look Back
If it's AI, it's probably written in PowerPoint…
New Video: Broken Promises and Bright Future – Preparing for the Next Wave of AI in Cybersecurity
MixMode Named Among Top Cybersecurity Companies to Watch in 2023 by CRN
IDC On-Demand Webinar: Artificial Intelligence – A New Chapter for Digital Safety